Feminist Legal Studies Queen's - Winter Term 2022 Lectures
Friday, February 18, 2022
1-2.30 pm via Zoom
Heather McLeod-Kilmurray | Professor | Co-Director at the Centre for Environmental Law & Global Sustainability | University of Ottawa
Topic: An Ecofeminist Critique of Canadian Environmental Law: The Case Study of Genetically Modified Foods     
Abstract:
The nature of environmental harms clashes with traditional approaches to law. As feminist legal critics have pointed out, in a legal system primarily premised on liberal individualism and a capitalist economy, the law itself can embody and perpetuate ways of thinking and acting that lead to harm, rather than being a tool for resolving these problems. I will examine how an ecofeminist legal analysis of the law's treatment of environmental harm can improve the effectiveness of environmental law. Ecofeminist analysis has argued that current approaches to environmentalism embody a patriarchal conceptual framework, including hierarchical thinking, a logic of domination, and normative dualisms such as the separation of humans from nature. A case study of GM foods will be used to tease out the various threads of legal reasoning (such as definitions of harm, regulation of technology and notions of rights and duties) and analyze them through a lens of ecofeminist legal analysis. This case study can be used to illustrate the need for an ecofeminist legal analysis to guide significant reform of many aspects of Canadian environmental law.
Bio:
Heather McLeod-Kilmurray is a Professor and Co-Director at the Centre for Environmental Law and Global Sustainability (CELGS) at the Faculty of Law, University of Ottawa. Her research deals with food law including GMOs and industrial factory farming, toxic torts, environmental justice and the relationship between science and courts. She is co-author of The Canadian Law of Toxic Torts with Prof. Lynda Collins, and co-editor of Canadian Food Law and Policy with Profs. Nathalie Chalifour and Angela Lee. She is a former part-time member of the Ontario Environmental Review Tribunal, and a Board member of the Canadian Association of Food Law and Policy.
Background readings:
1) McLeod-Kilmurray, Heather C., "An Ecofeminist Critique of Canadian Environmental Law: The Case Study of Genetically Modified Foods" (2008) 26 Windsor Review of Legal and Social Issues 129-178.
2) Lee, Angela, "An Ecofeminist Perspective on New Food Technologies" (2018) 5:1 Canadian Food Studies 63-89, Available at SSRN:https://ssrn.com/abstract=3250205
---
Friday, February 11, 2022
1-2.30 pm via Zoom
Dr. Carys Craig | Associate Professor | Osgoode Hall Law School
Topic: Copyright & Gender: Feminist Philosophies, Practices, and Proof     
Abstract:
In this presentation, Professor Craig will draw the connections between copyright and gender from a feminist perspective. Her talk will cover feminist philosophies of authorship and entitlement; feminist practices of dialogic creativity and attribution; and empirical evidence about the gendered consequences of the copyright system
Background readings:
Carys Craig, "Copyright and Gender: Evidencing the Connections", 21 for 2021 Report for CREATe, online at: https://www.create.ac.uk/blog/2021/12/17/21-for-2021-copyright-gender-evidencing-the-connections/
Additional Recommended (Optional): Carys J. Craig, "Feminist Aesthetics and Copyright Law: Genius, Value, and Gendered Visions of the Creative Self" in I. Calboli & S. Ragavan (eds.), Protecting and Promoting Diversity with Intellectual Property Law (Cambridge UP, 2015), online at: https://ssrn.com/abstract=2464536; and/or Carys J. Craig, "Reconstructing the Author/Self: Some Feminist Lessons for Copyright Law", 15(2) Am U J of Gender, Soc Pol'y & the Law 207 (2007), online at: https://digitalcommons.wcl.american.edu/cgi/viewcontent.cgi?referer=&httpsredir=1&article=1109&context=jgspl  
---
Feminist Legal Studies Queen's - Fall Term 2021 Lectures
Monday, November 29, 2021
1-2.30 pm via Zoom
Bita Amani, Associate Professor, Queen's Law
Topic: AI and Equality by Design     
Artificial intelligence (AI) is increasingly offered by proponents of its use as a tool for overcoming human biases, errors in judgment, and irregularities in decision-making, promising to provide a greater measure of predictability and consistency in decisions and, therefore, in the rule of law. For its critics, generating consistency in decision-making is a means of entrenching and amplifying discriminatory practices in a way that reproduces privilege and inequality in human relations through the use of pattern discrimination and predictive analytics, while simultaneously rendering these practices less transparent, explainable, and contestable. In both cases, technology is catapulted to the forefront of law as constitutive of lived realities and the governance of human relations, whether in the private or public sphere, rendering law perhaps nothing more than a technology too soon to become obsolete. Algorithms feed neural networks with neo-liberalism's relations of power and inequality, and thus have the capacity to "bake in inequality," to reproduce bias, and effectively to pass off the descriptive output of "code" as law, and such "law" as the normative aspirations of justice. More than ex post remedial mechanisms in law are needed to address such harms: if the rule of law is to retain its comparative advantage, an "Equality by Design" enforceable default for computer programming, consistent with the aim of a "human-centred approach" to AI governance, is required. Borrowing from well-established "Privacy by Design" principles, this chapter argues for similar, strengthened implementation in domestic law and policies for equality as the default value-based inclusive design for machine-learning algorithms and predictive analytics.
---
Friday, November 26, 2021
1-2.30 pm via Zoom
Kuukuwa Andam, PhD Candidate Queen's thesis focusing on Female Sexual Minorities in Ghana using Technology for Activism, LLM Cornell, LLB 
Roberta Edem Abbeyquaye, Programme Assistant for Communications at Media Foundation for West Africa, Freelance Photographer and Videographer for BBC, Al Jazeera Media Network 
Topic: Ghanaian Family Values" Queer Persons, the law, media & advocacy in Ghana     
Abstract:
The LGBTQ+ Ghanaian community has come under repeated attacks in 2021. In January, a safe space established for queer persons was raided by the police and shut down.
Then in May, twenty-one activists were arrested while attending a paralegal human rights training conference in Ho, and subsequently incarcerated and put on trial for months.
Finally, in August, the Proper Human Sexual Rights and Ghanaian Family Values Bill was laid before Parliament. Among other things, this Bill seeks to criminalize being queer, advocacy for queer rights, and even sympathy towards queer persons. Under this Bill, queer persons and allies could be incarcerated for terms ranging up to 10 years. Individuals may only be granted reprieve if they "recant" and undergo conversion therapy which has been previously stated by some of the Bill's proponents to include hormonal injections.
This presentation examines the chronology of events that led to the Bill and recent attacks on the queer community and it analyzes the role the law and the media have played in marginalizing an already vulnerable community. It will also examine advocacy efforts that are being made to address this current wave of homophobia and the proposed draconian law.
---
Monday, Oct. 18, 2021 (Eastern time US and Canada)
1-2.30 pm via Zoom
Pamela Palmater, Professor and Chair in Indigenous Governance, Ryerson University; SJD and LLM, Dalhousie University, specializing in Indigenous law; LLB, University of New Brunswick; BA, St. Thomas in Native Studies
Topic: Genocide, Pandemics and Indigenous Peoples: Human Rights
Abstract:
The crisis-level socio-economic conditions of many Indigenous peoples in Canada that have their roots in historic and ongoing genocide. These conditions, that have been created and maintained by successive state governments since contact, make Indigenous peoples more vulnerable in outbreaks, epidemics and pandemics. The current worldwide pandemic continues to present a significant risk to Indigenous peoples and requires targeted state measures - grounded in a human rights framework - to address both genocide and the pandemic simultaneously.

Biography and Background to Dr. Palmater's Lecture:
Dr. Pamela Palmater is a Mi'kmaw lawyer, professor, author, and social justice activist from Eel River Bar First Nation in New Brunswick. A practicing lawyer for 22 years, Pam has been volunteering and working in First Nation issues for over 30 years on a wide range of issues, including socio-economic conditions, Aboriginal and treaty rights, and legislation impacting First Nations. Her books, Warrior Life: Indigenous Resistance and Resurgence, Indigenous Nationhood: Empowering Grassroots Citizens and Beyond Blood: Rethinking Indigenous Identity, together with her other publications focus on Indigenous law, politics, and governance and the importance of native sovereignty and nation-building.
Pam was one of the spokespeople and public educators for the Idle No More movement and advocates alongside other movements focusing on social justice and human rights. She is frequently called as a legal expert before Parliamentary, Senate and United Nations committees dealing with laws and policies impacting Indigenous peoples. Her current research focuses on racism, abuse and sexualized violence against Indigenous women and girls and its contribution to the crisis of murdered, missing, traded, and exploited Indigenous women and girls.
Pam is a well-known public speaker and media commentator – considered one of Canada's Top 25 Influential Movers and Shakers by the Financial Post and the Top 5 Most Influential Lawyers in Human Rights by Canadian Lawyer Magazine. She has been recognized with many awards for her social justice advocacy on behalf of First Nations generally, and Indigenous women and children specifically, including the 2012 YWCA Woman of Distinction Award in Social Justice, 2012 Women's Courage Award in Social Justice, and the Margaret Mead Award in Social Justice 2016, to name a few.
Relevant Advance Reading:
Further Resources re legal, policy, and academic engagements: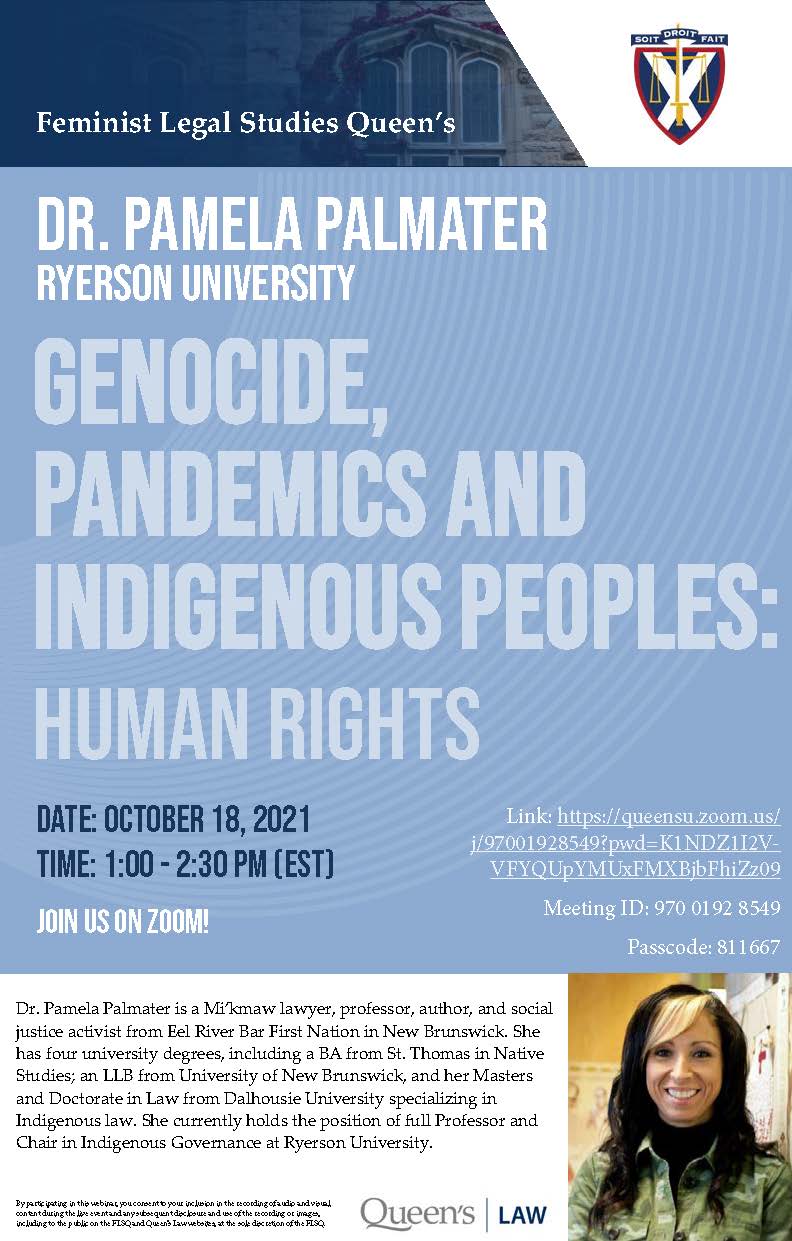 ---
Friday, Oct. 1, 2021
1-2.30 pm via Zoom Register here
Fereshta Abassi, Chevening Scholar, University of Aberdeen, UK, Master of Law in International Law and Strategic Studies, 2019- 2020; Herat University, Bachelor of Law (Public and Private Law) and Politics, 2012-2013; member, Afghanistan and UK bars

Topic: An Overview of Afghanistan's Current Situation in Terms of Women's Rights     
Abstract:
The international community's decision to withdraw troops from Afghanistan had raised fears that the hard-gained achievements -- including laws protecting women's rights -- might be at risk. Now with the Taliban taking over the country, they have shown few signs that they are changing their idea of gender roles and relations in their political and legal system. They are selective in what rights to grant to women, with this selection appearing to be driven by a purely militant and deeply narrow reading of Islamic sources. This seminar will cover the deepest concerns of Afghan women living under an extremist government.
Required reading: